Discussion Starter
·
#1
·
Double Stack 80 Gallon Glass. $300 OBO or trades.
Tanks are 48"Long 20"Deep 19"Tall
Split glass lids, three 1" bulkheads in each tank (1 bottom back, 2 on the bottom).
The tanks sit on a strong metal frame. 51" tall, 20 wide and the upper tank reaches 68" high. Each shelf has a wooden base with cut outs for the bulkheads and a layer of foam for insulation.
I used a 20 gallon tank as a wet/dry with bio balls, pot scrubbies, a temp splash trash and media,small heater, and via aqua 3600 pump.
I have both 80 gallons draining into the wet/dry along with one 30 gallon and another 40 gallon. The via aquar 3600 is strong enough to pump back to all 3 tanks (the upper 80 gallon drains into the lower one.
Currently i have only used 2 of the 3 bulkheads in each tank, you could re plump the setup however you want to.
Does not included large lights, FBF, air stones, sponges, plants.
IF you are interested in them contact me.
$300 OBO, trades, make an offer.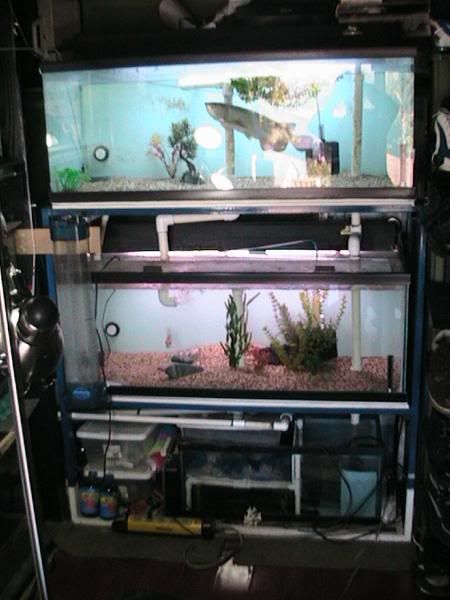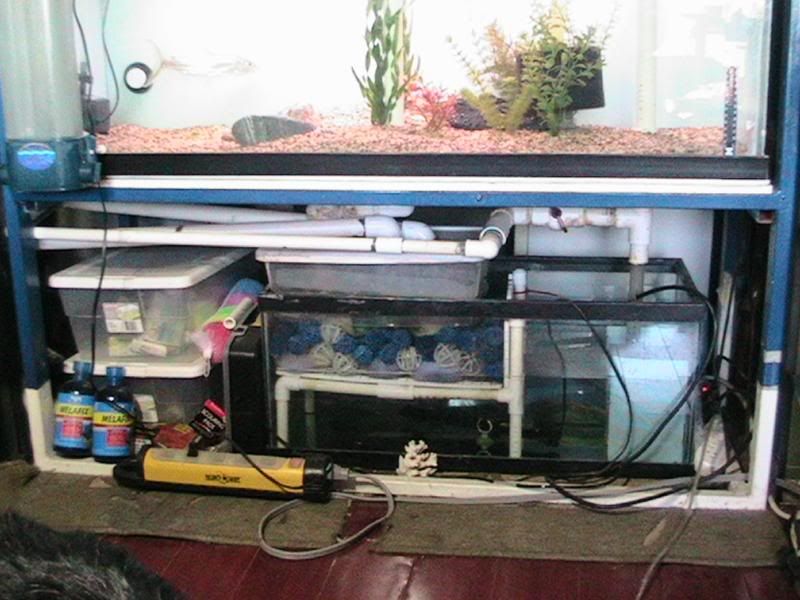 Triple stack 30's and 40 gallon. $150
The top two glass tanks are 30 gallons with one 1" bulkhead in the top right. The very bottom tank is an acrylic 40 gallon wiht one 1" bulkhead in the top right. I built the Shelf myself, it is very strong, and i painted it with a high gloss acrylic enamel for portection and looks.
The bottom two tanks filter into the wet/dry sump under my double stack 80s, the top tank used to filter into the wet/dry of my 220 gallon but i took out the 220 so the top tank is empty.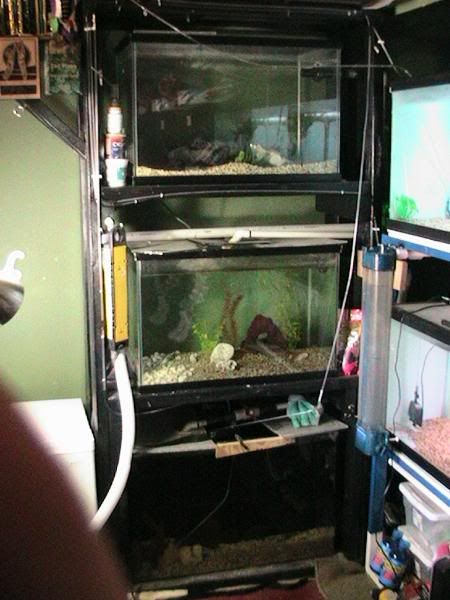 Also for sale:
8 port adjustable air pump. $45
I ran sponges and air stones in my two 80 gallons, two 30 gallons, 40 gallon, 220 gallon, and a seperate hex. Plenty powerful enough.
I have several different aquarium lights.
6' Basic aquarium light $35
4' Basic double bulb $20
38" Rectangle double bulb $20
Currently on the double 80's i have two top aquarium series lights. Each has two sets of lights with a swtich to each. Very nice and expensive lights, id rather keep but if anyone wants to make an offer go for it.
UV sterilizer by aqua. $35 I believe it is an 8 watt, needs new bulb.
Sealstorm UV sterilizer. $20 worked last time i ran it, but prob needs new bulb.
125 gallon rubber pond. Not round, odd shaped one, in gorund style (i used above). $ 50
300 Gallon custom glass tank for sale, cracked bottom glass, make offer.
FBF 600, it started to leak a little, so i sealed it with acrylic sealer.$ 45