Discussion Starter
·
#1
·
I've been playing with fishtanks since the 80's. I had a tank all through college, and even taught my red oscar to play golf... (I could drop a golf ball into the tank, and he would go over, and pick it up, and take it over to the hole I had made in the gravel, and drop it in, it was great for winning bets with my college friends!)
When I moved to Ohio, I built a custom stand, and went salt water. It was a great set up, but when bow front tanks came out. I had to have one. I guess that was around 1997? I put in a 46 gallon, and got a wet dry. The quiet one pump that I picked up from my neighbor used is still going strong (the old style, that is super quiet). Hopefully it will keep working as my amiricle slim line barely fits in the cabinet. I drilled it and put my pump all the way up against the side of the stand, I know the new style quiet ones won't fit...
Anyway, I've had lots of stuff in my tank over the years. Here is a pic of it from 2003.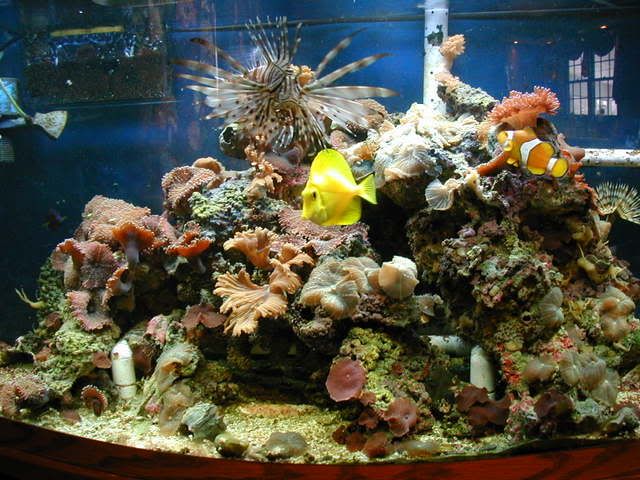 The coral beauty in the left hand corner, and the yellow tang were the first fish I bought when I started salt water...
The red voltain lion fish tried to burn my house down... So I sold him...
Literally, he would spit on you when you walked by the tank if you forgot to feed him... And one day were were gone, and we came home to our brand new custom build dream home, and the power was out, and there was a smoky haze all over!
I went into the study where the fish tank was, and found that my power strip had caught on fire from him spitting onto it from the tank! Luckily it didn't catch the curtains on fire, but the wall had big black burn marks and the outlet was melted down and burned into the carpet... So be careful!
I sold him by the end of the week.
We had a big windstorm here in Ohio back in the fall. Our power was out for days, and I lost all my fish except for my clown fish. The corals did a little better, but I lost my anenome, and some soft corals.
This weekend I ordered some new fish, and here are some pics.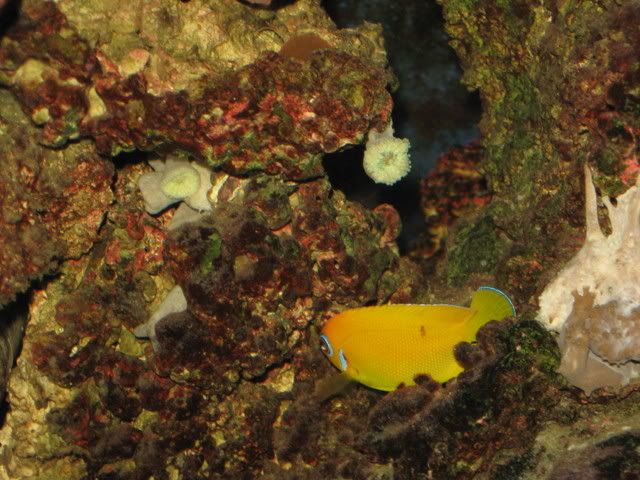 after playing with the settings on my camera I got this one of the same spot.
I grew this rock myself, from ONE red mushroom! It was base rock originally.